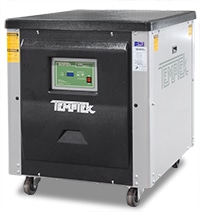 CF-W SERIES PORTABLE CHILLERS (Air & Water Cooled)
Portable chillers use mechanical refrigeration to cool recirculated fluids that support industrial process cool- ing applications.
Portable chillers include an internal pumping system and reservoir system.

Portable chillers can be moved between use points as needed.

Water

-

Cooled chillers use plant water supplies to dissipate the heat from the refrigeration system.
---