TP Series Cooling towers cool recirculated fluids that support indus- trial process cooling applications.
Cooling Towers are typically used to supply cooling temperatures between 5°F to 10°F above the ambient wet bulb conditions.
Cooling Towers provide cooling water to multiple processes, includ- ing hydraulics, chiller condensers, temperature control units and other equipment.
Temptek offers cooling towers in capacities from 45 to 540 tons in single and expanded cell systems.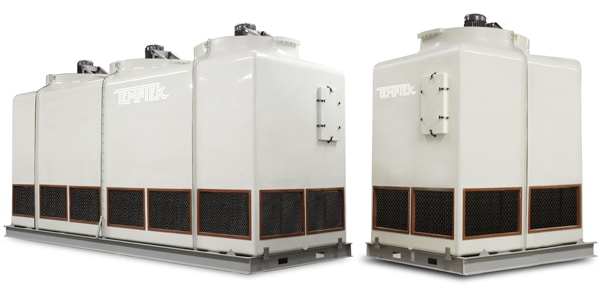 TP SERIES COOLING TOWERS
All Non-Ferrous Design
45 to 540 Tons Capacity
UV Stabilized Fiberglass Shell


TEFC Fan Motor with ABS Fan Blades

10 Year Shell Warranty
5 Year Mechanical Warranty
---
TM SERIES COOLING TOWERS
6 to 200 Tons Capacity


Galvanized Steel Construction

CTI Certified Performance


Compact Space Efficient Design
---